Online Inaugural Session of new PGDM Batch 2021-2023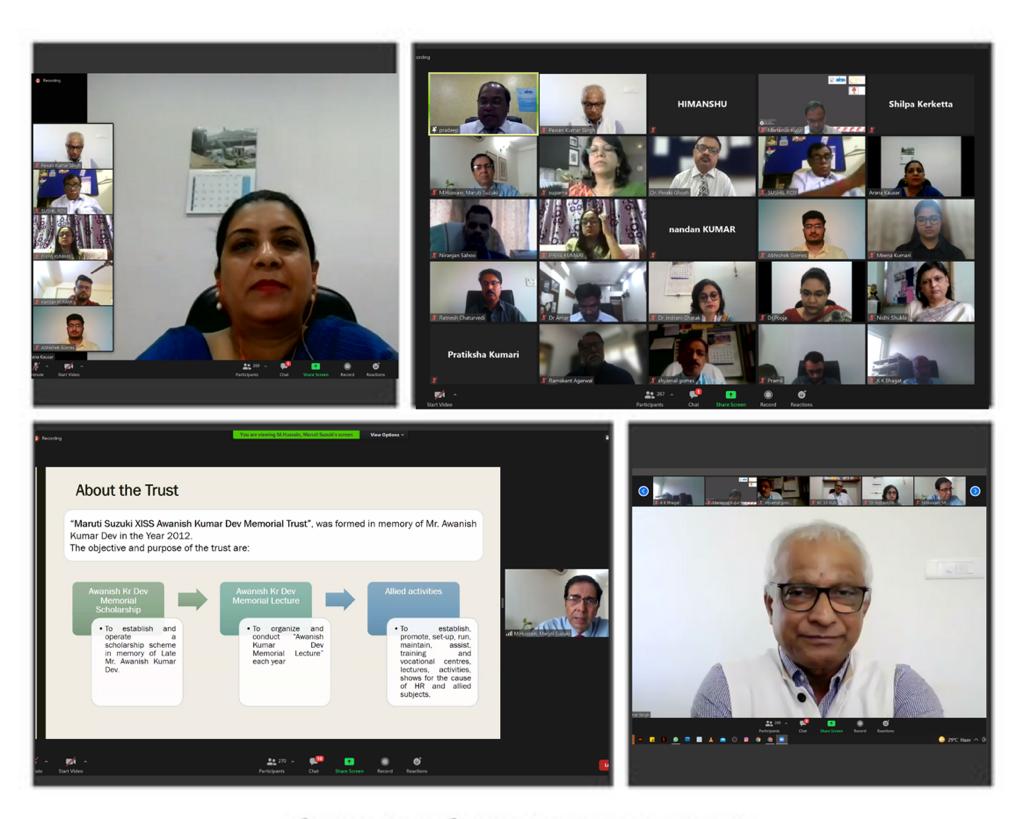 Xavier Institute of Social Service (XISS), Ranchi welcomed its new batch of PGDM 2021-2023 students in an Online Inaugural Ceremony at the beginning of its new academic session on August 02 2020 (Monday). Students from the four programmes of the Institute namely Human Resources Management, Rural Management, Finance Management, and Marketing Management joined the online session from across the country.
The session began with an inaugural prayer by Fr. Xavier Soreng, SJ, Superior XISS where he remembered Almighty and sought his love for all. The XISS family members who lost their lives during this pandemic were remembered and everyone prayed for their souls to rest in peace.
"Nurturing professionals with a difference" was the theme of the Director's welcoming message. In his address, Dr. Joseph Marianus Kujur SJ, mentioned that at XISS they would try their utmost to teach the students significance of cooperation, compassion, and excellence. He further added that when in college, one should focus on both academics and social development, because these two years would largely determine the rest of the life of the students.
He then elaborated on following the theme of Jesuit Education, 'MAGIS', and told that each student's motto should be "MAGIS", which meant "excellence" in keeping with the Jesuit education philosophy.
Provincial and Governing Body Chairman, Fr. Ajit Xess, SJ, during his address highlighted the distinct culture of XISS which has fostered professionals with a difference. Academic excellence, knowledgeable staff, and a large alumni network have been the decisive elements in the institute's success and the students should be proud of their association with the Institute. He also mentioned that the Jesuit Educational Values had emphasized on interpersonal skills, social and cultural understanding, compassion and peace-making abilities among its students.
The Chief Guest of the inaugural ceremony, Dr. Pawan Kumar Singh, Director Indian Institute of Management (IIM) Tiruchirapalli, also an esteemed alumnus of XISS, IR & PM, batch of 1984, addressed the students advising them to make the most of this opportunity at XISS. He said that serious study could be combined with fun, and that the years they spend at XISS will help them maintain their feet on the ground and their head high in the sky. He shared his thoughts stating that the newfound humility and commitment would serve them well as future managers, since it would help them climb the ladder of success. He also advised the students to enjoy their topic with their professors here, based on his own experience.
During the introduction of the chief guest, it was shared that Dr. Singh has held important profiles like Director Incharge & IIM Indore Professor; Director MDI, Gurgaon and Chairperson, First Academic Committee, IIM Sambalpur to name a few.
The session was attended by all Faculty members, Staff members, Alumni members, and students of the new batch. The vote of thanks was given by Dr. Pradeep Kerketta, SJ, Assistant Director XISS, while the session was coordinated by Dr. Pinaki Ghosh, HoP Marketing Management Programme and the session was smoothly conducted by Dr. Arana Kausar.
Awanish Kumar Dev Memorial Scholarship
During the Online Inaugural Ceremony the names of winners of the Awanish Kumar Dev Memorial Scholarship 2021-22 were also declared by Mrs. Suparna Dev (wife of Late Awanish Kumar Dev, an alumnus of XISS) and senior Alumni Mr. Mussarat Hussain, Head, Leadership and Functional School, Maruti-Suzuki. India Ltd.
Mr. Karamjeet Singh, Ms. Shrawani Roy and Ms. Nidhi Singh have been chosen as winners of the memorial scholarship which is being awarded since 2013.
The Awanish Kumar Dev Memorial Scholarship, constituted in the memory of Mr. Awanish Dev, GM Plant HR, Maruti-Suzuki India Ltd. who was an alumnus of XISS PM&IR batch 1982-84.
He lost his life during a clash at the auto major's Manesar plant on July 18, 2012. XISS with Maruti Suzuki India Ltd. had jointly set up the Maruti Suzuki XISS Awanish Kumar Dev Memorial Trust where the purpose of the scholarship was to encourage competitiveness and learning amongst the HR specialization students at XISS, Ranchi.