Auditorium
The Fr Michael Van den Bogaert, SJ Memorial Auditorium is an air-conditioned facility housed in the main building of the Institute. The well-furnished auditorium with a seating capacity of 300, hosts all major events of the Institute including guest lectures, seminars of national fame along with student events both academic and cultural.
---
IT Infrastructure
XISS has high-tech IT infrastructure that provides all the required services that help to enhance the knowledge and development of the students as well as the faculty and staff members. The IT infrastructure is fully secure and equipped with updated hardware SOPHOS XG 310, Firewall and Quick Heal Antivirus Total Security.
There are two smart seminar rooms facilitated with video conferencing system for conducting training programmes, imparting lectures, discussions and industry interactions. There are four classrooms equally enabled with adequate facilities allocated for Communication Lab classes and Soft-Skills development of the students.
There are two computer labs for the management students. The main computer lab includes 100 Intel core i7 HP desktops with Windows 10, Office 365, Oracle, Systat, SPSS, with 24/7 internet connectivity. The other computer lab is designed for GIS and Remote Sensing. This includes 32 Intel core i5 HP desktops with Windows 10, Office 365, ArcGIS, ER DAS Imagine, AutoCAD, QGIS, GEOMEDIA, IGIS, ENVI with 24/7 internet connectivity.
---
Wireless Facility
XISS provides 24/7 150 MBPS leased line internet connectivity to the academic campus and 24/7 20 MBPS leased line internet connectivity to the girl's hostels. This enables the students to extend their online learning activities beyond the classrooms.
---
Conference Rooms & Class Rooms
XISS has a decent infrastructure with state-of-the-art classrooms as well as smart seminar rooms, a well-equipped interview room along with a group discussion (GD) room. They are naturally lighted classrooms with good ventilation. These state-of-the-art classrooms are facilitated with comfortable seating arrangements, internet connectivity, multimedia projection and audio systems along with the traditional blackboard and whiteboard for monitoring of students' attention. There are 14 air-conditioned classrooms for traditional teaching, 4 tutorial rooms for case discussion/round table classroom and a Smart Classroom for advanced teaching with multimedia overhead projection and audio systems.
There is an IP based video conferencing facility, which is extensively used during the placement season, live meetings, live group discussion and during the online workshop/seminar to connect with others.
---
Sports Facility
Sports is an integral part of the education process. It helps to build character and teach the importance of discipline and team spirit. XISS has indoor and outdoor sports facility along with well-equipped gymnasium.
The Indoor Sports Facilities include:
• Table Tennis
• Chess
• Carom Board
• Gymnasium
The Outdoor Sports Facilities include:
• Cricket Ground
• Basketball Ground
• Football Ground
• Badminton Court
---
Hostel, Guest House & Canteen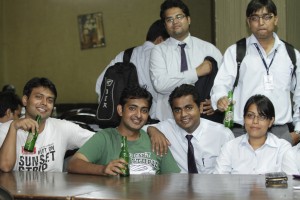 XISS provides hostel facilities for boys and girls. The girls' hostel has 4 single bedrooms, 35 double bedrooms and 24 four-seater rooms for girls. 24/7 internet connectivity (Wi-Fi) is provided to the students residing in our girls' hostel. The process for making a new well-equipped boys' hostel is in progress. At present, the Institute has entered into an agreement with St. Paul's Boys' Hostel in the campus vicinity for approximately 25 students. The process of making a new well-equipped boys' hostel is in progress. Interested students for any hostel-related query, contact on : +91-9431351683.
For Girls' Hostel, students are hereby informed to send in their preference for 2 or 4 seater rooms. The status of the availability of seats is mentioned below:
2 seater – 54 seats available
4 seater – 90 seats available
Email your queries to : hostel@xiss.ac.in
Or
Contact on : +91-9431351683
The Institute also has a Guest house, which can accommodate 30 participants for various Management Development Programmes and two separate canteens for Faculty, staff and students and MDP trainees.