Marketing Management Programme completes Virtual Industrial Visit-2022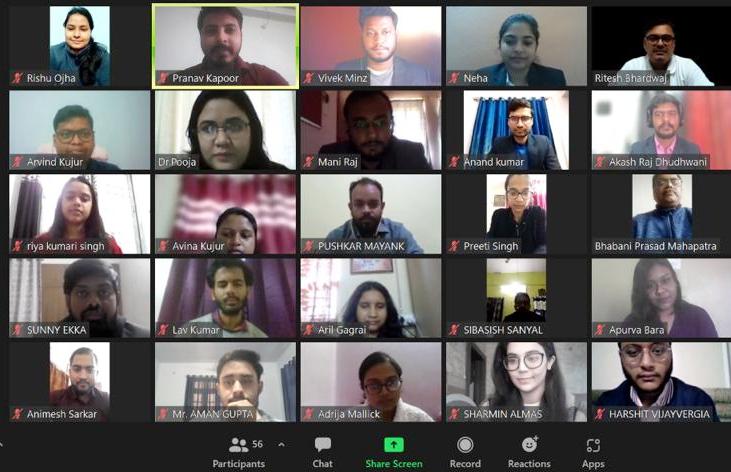 As part of curriculum, every year the Second Year students of the Marketing Management Programme visit different industries located in metro cities of India to learn from the interactions with practicing managers and professionals. Due to Covid-19, the industrial visit was organised virtually by the programme from 11 to 24 January 2022. Markbuzzz, the official marketing club of XISS has been given the responsibility to conduct the sessions. Experienced corporate professionals from sectors like Banking, Retail, Telecom, Consultancy, FMCG and Research interacted with the students. The interaction majorly emphasised on the requisite skills and core competency a marketing student requires to excel in sales and marketing domain. The interaction highlighted the recovery of the industries after the crisis created by Covid-19 pandemic in India. The interaction also highlighted the expectations of the industries from the budding marketing managers and coping management skill with corporate culture. Each interaction was conducted by the students with the expert guidance of the faculty members. Students actively participated in each interaction through question-answer session. A total of nine sessions were conducted.
A broad outline of each session of the VIV-2022 has been given below.
| | | | |
| --- | --- | --- | --- |
| Date | Name of the Guest and Designation | Area | Theme |
| 11.01.2022 | Mr Sachindra Kumar Rai, Chief Compliance officer, SBM Bank (India) Ltd | Banking and Compliance | AI-based Banking: Challenges and Opportunities |
| 12.01.2022 | Mr Sandeep Narain, Chief Retail Officer, Shoppers Stop Mr Jagannath Ojha, National Lead, Sales and Operation, Shoppers Stop | Retail Store Operation | Advancement and Challenges in Retail Operation |
| 15.01.2022 | Mr Kaushik Das, Chief Financial Officer, Fujairah Building Industries PSC, Dubai | Supply Chain | Role of Supply Chain in the fast-Growing Emerging Market |
| 16.01.2022 | Mr Deepak Kumar, General Manager-Analytics, CLICK FLYER | Business Analytics, Digital Marketing | Application of Data Science in Industry |
| 22.01.2022 | MR. Ritesh Bharadwaj Head, Aggro Chemicals Business & Corporate, Godrej Agrovet Ltd | HR, OB | Skills and Competencies for Future Managers-Sector Wise Perspective |
| 23.1.2022 | Mr Gautam Borah, Ex-Vice President, Vodafone | Telecom, operation | Cooking Excellence - Corporate lessons not taught in B - Schools |
| 24.1.2022 | Mr Satya Bonala Founder and Director, Vox Populi | Market Research, Digital Marketing | Consumer Segmentation |
The programme had nominated Dr Bhabani Prasad Mahapatra as the faculty coordinator for the Virtual Industrial Visits (VIV) and he was supported by Dr Pooja. Dr Pinaki Ghosh, Head of the Marketing Management Programme was present during the programme. The programme conveys its thanks to Dr Amar E. Tigga, Dean Academics and Management of XISS for the successful completion of the VIV-2022 of the programme. The programme is thankful to Mr Akash Bhuinya Assistant Project Officer, Department of Research and Planning for technical support provided during the VIV.