253 students graduate at XISS's 62nd Annual Convocation

Xavier Institute of Social Service (XISS), Ranchi, one of the premier B-Schools of the country, celebrated its 62nd Annual Convocation Ceremony in the campus.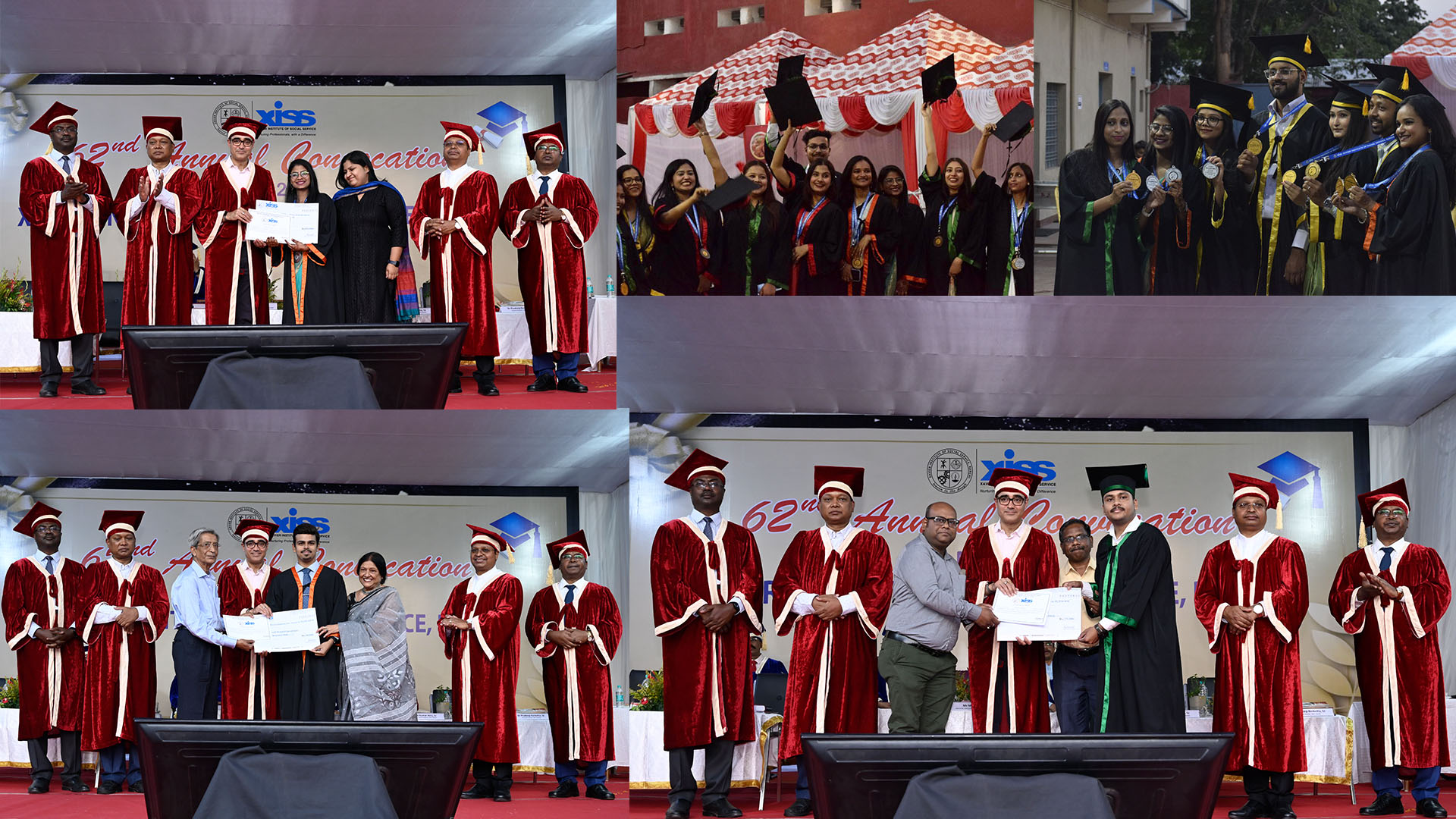 253 students across four programmes, including 69 students in Human Resource Management, 65 students in Rural Management, 59 students in Financial Management and 60 students in Marketing Management graduated during the ceremony. 22 students from across programmes were declared top rank holders and amongst them 11 gold, 07 silver, and 04 bronze medals were distributed with 5 students receiving cash prizes worth Rs 1,67,000/. Meanwhile, 24 students were also awarded with Institutional Scholarships worth Rs 7.2 lakhs under the Fr Michael Van den Bogaert SJ Memorial Scholarship for meritorious students of SC/ST category, Fr Michael Albert Windey SJ Memorial Scholarship for meritorious students on the whole open to all, and Fr Louis Francken SJ Memorial Scholarship for overall performance of all categories of students.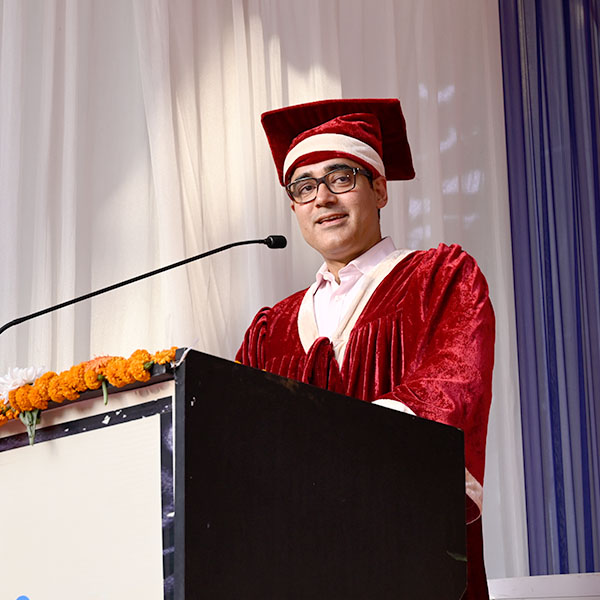 Chief Guest, Mr Manish Sharma, Chairman, Panasonic Life Solutions, India & South Asia graced the occasion. He congratulated the graduating students and extended his best wishes to the class of 2023 for stepping into the world with enthusiasm and the desire to make a difference. He mentioned that truly, XISS creates professional with a difference.
He addressed the graduating batch and said them to always remember the 3'Cs of Life: Capability, Consistent Learning and Character with Ambition, Resilience, and Humility are something which will help you in creating your future. Now it's our country time now and I'm sure if you look around you, you will find the rapid changings happening around you, therefore this is opportunity to make the difference and make sure to lead the life with credibility.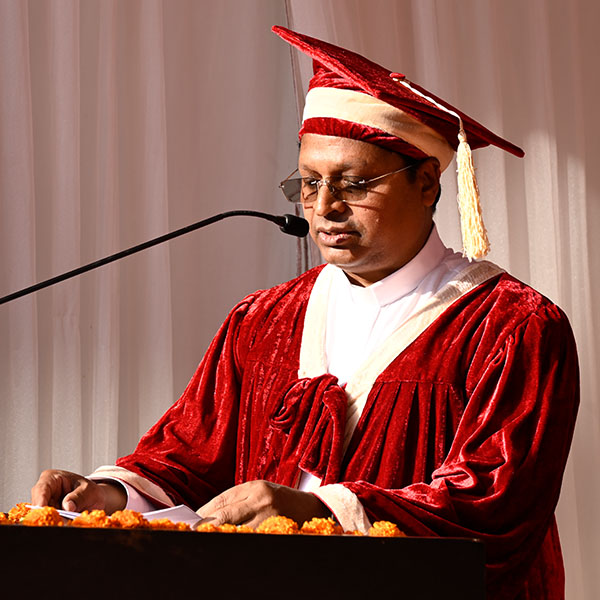 Earlier, Fr Ajit Kumar Xess SJ, Chairman, XISS-Governing Body declared the 62nd Convocation ceremony open and quoted Richie Norton, 'Every sunset is an opportunity to reset. Every sunrise begins with new eyes.'
He congratulated the batch on their achievements and said that the evening is not only about celebrating your success, but also celebrates all the steps you have taken and journey you have made to achieve this, all the hard-work has now paid off. He encouraged everyone to persuade the interest they have, embrace new challenge, and take calculated risks. He also reminded everyone that life does not get better by chance but by change and that all are counting on them to make the difference and follow the path of integrity, values and righteousness and carry forward the XISS legacy.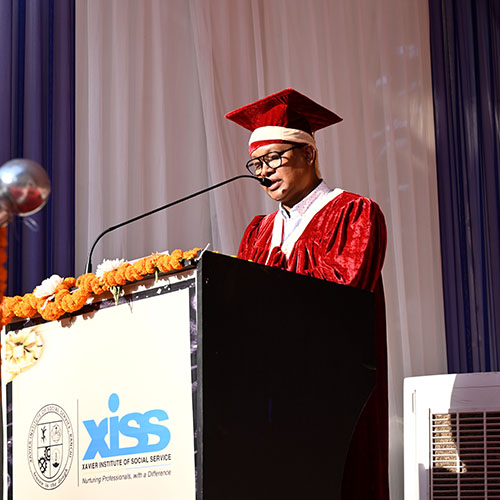 Director, XISS, Dr Joseph Marianus Kujur SJ presented the Annual Report of 2022-23 and highlighted the achievements, learnings, practices and strategies of the Institute in the past year. He congratulated and extended his good wishes to the graduating students, medal winners, and scholarship winners for their hard work, dedication, and commitment.He urged the students to keep striving for excellence, and that their future endeavors will bring them happiness, fulfillment, and continued success. A special recognition celebration for 35 Faculty and Staff under three categories of service to the Institution for 15 years and more was also organised.
Dr Kujur mentioned in his address that academic rigour and international connections can be the key drivers of robust growth for institutions to expand their capabilities and reach in the global marketplace. XISS is committed to achieve excellence in research, education, and innovation. He reiterated the commitment to provide students with access to cutting-edge technology and resources. Combining academic rigour and international connect will help us develop a strong, diverse, and globally connected workforce," Dr Kujur emphasised while reading the annual report.
He further added that is great to see that XISS has been successful in instilling important values such as compassion and integrity in all of you, while alongside providing rigorous academic training. It is also wonderful to see that all students have been able to balance their academics with their co-curricular and extra-curricular activities, which reflects positively on their time-management and organizational skills. He also mentioned that, living up to the legacy of successful placements, 95.51 % students this year have secured jobs in leading companies of the nation, he concluded.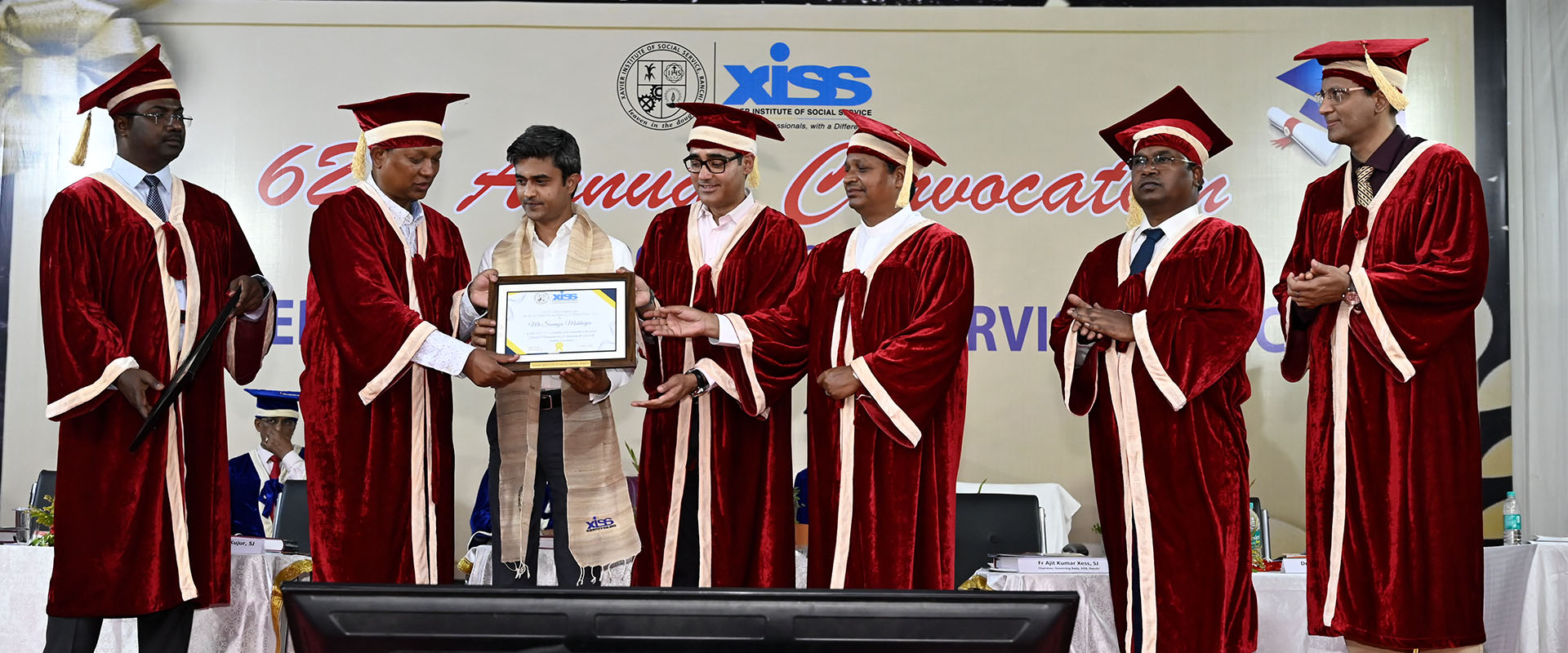 The Fr Michael Van den Bogaert SJ Memorial Award "Distinguished Alumni Award" was awarded to Mr Somya Mukherjee, Director, Asia Pacific Leader, Global Transfer Pricing Center, Deloitte Haskins & Sells LLP from Batch 2005-2007 of the Financial Management Programme.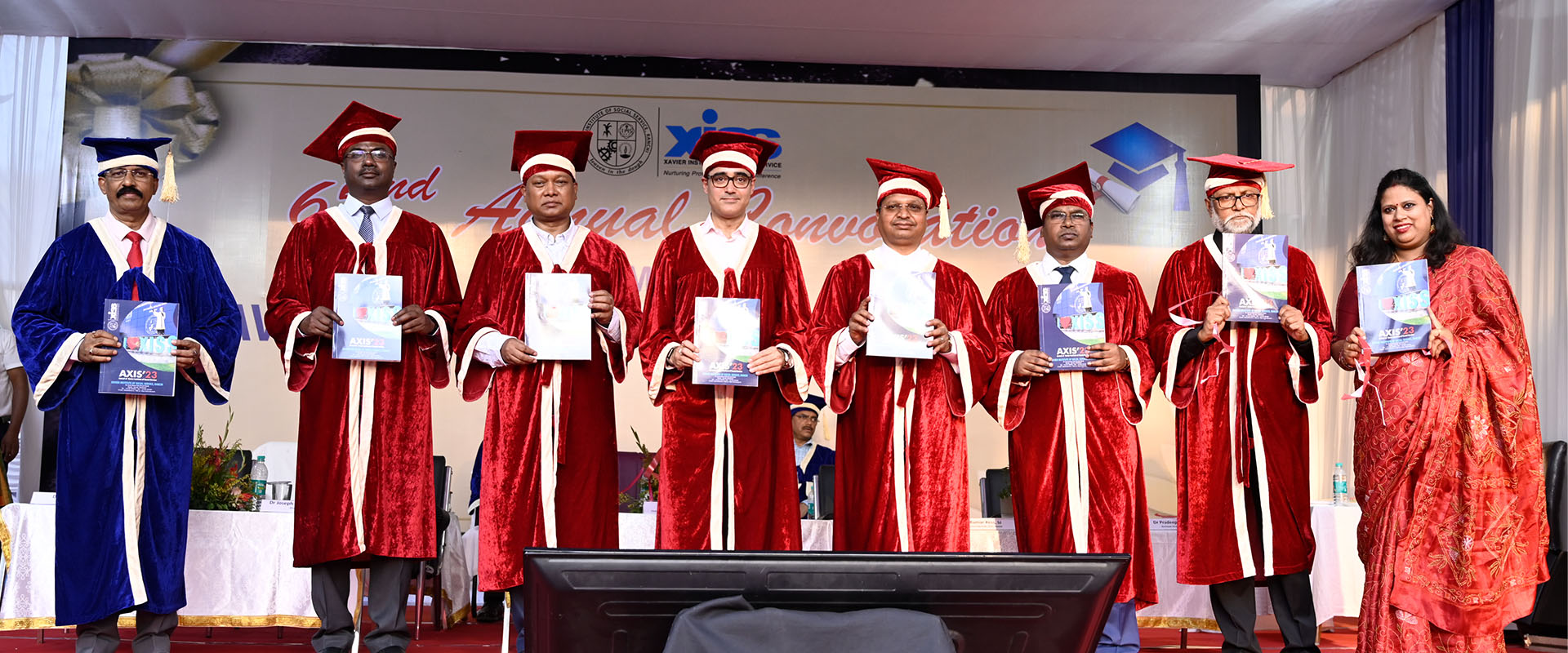 Further in the event, the guests released AXIS 2023 – Annual of XISS along with other publications namely, combined volume of Jharkhand Journal of Development and Management Studies JJDMS 2022-23, and XISS-UNICEF Report-SAMPARK 2022-23.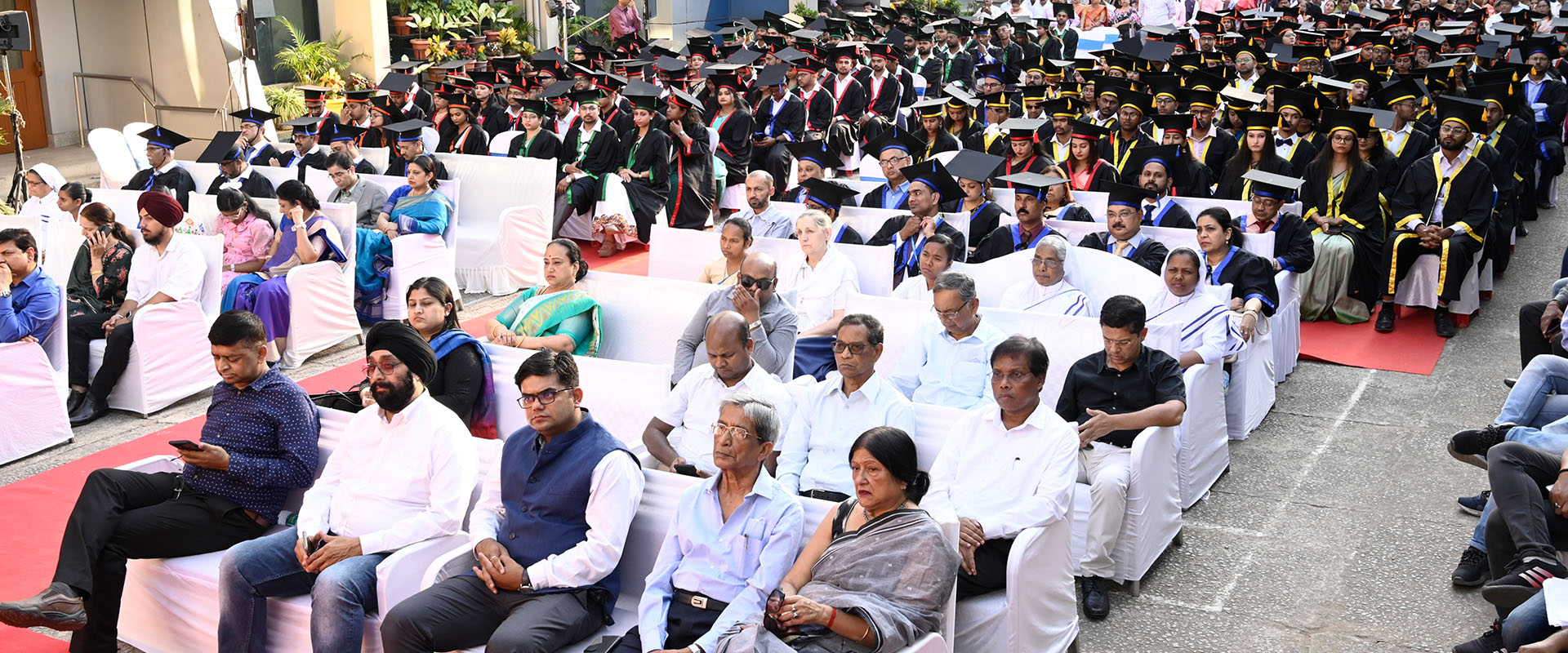 The vote of thanks was given by Dr Pradeep Kerketta SJ, Assistant Director, XISS. The event was also graced by Dr Amar E. Tigga, Dean Academics; Fr Xavier Soreng SJ, Superior, XISS; along with Dr Shyamal Gomes, Head PGDM (Human Resource Management); Dr Anant Kumar, Head PGDM (Rural Management); Dr Bhaskar Bhowani, Head, PGDM (Finance), Dr Bhabani Prasad Mahapatra, Head, PGDM (Marketing) and other faculty members, esteemed alumni, parents of graduating students of batch of 2021-23. The ceremony was successfully coordinated by Dr Ramakant Agrawal and Dr Madhumita Singha. The ceremony closed with the national anthem as the student's bid adieu to the Institute.
List of medal winners –
| | | | | |
| --- | --- | --- | --- | --- |
| Sl. No. | Programme Name | Gold Medal (1st Rank) | Silver Medal (2nd Rank) | Bronze Medal (3rd Rank) |
| 1 | PGDM - Human Resource Management | XISS – Ms Rhea Marissa Roch | Ms Shruti Agarwal | Mr Lokesh Kumar |
| 2 | PGDM - Rural Management | XISS– Ms Akansha Kumari | Mr Harshit Burman | Ms Pankhuri Priyam |
| 3 | PGDM - Marketing Management | Ms Ankita Raj | Ms. Shimona Rashi | Ms Hephzibah Christina Patro |
| 4 | PGDM – Financial Management | Mr Swapneel Verma | Ms Kumari Kirti | Ms Divya Singh |
Other constituted Medals and Cash Awards
(HRM) NTPC Gold Medal, New Delhi – Ms Rhea Marissa Roch
(HRM) NTPC Gold Medal, New Delhi for ST/SC – Ms Prachi Jonko
(HRM) NIPM Kolkata, Silver Medal– Ms Navneet Singh
(HRM) Best Social Worker (Silver Medal) – Mr Lokesh Kumar
(HRM) Unni Krishnan Book Grant of Rs. 5000/- to Ms Rhea Marissa Roch
(HRM) Best Communication Cash Award of Rs. 10,000/- to Mr Roshwell Wendell Hendricks
Shruti Choudhary Memorial Gold Medal (Female) – Ms Prachi Jonko
Pramod Kumar IR Excellence of Rs 1,00,000/- - Ms Shruti Agarwal
(RM) NTPC Gold Medal, New Delhi for ST/SC – Ms Richa Kumari
(RM) SODA Silver Medal, Best Social Worker – Ms Akansha Kumari
Saibal Baroi Memorial Award (Rs 25,000/-) - Mr Bhanu Prakash
Kamalratna Gold medal & Cash award of Rs 27,000/- - Ms Ankita Raj
Gold Medal (SC/ST Student) – Mr Saban Topno
Topper's Speak: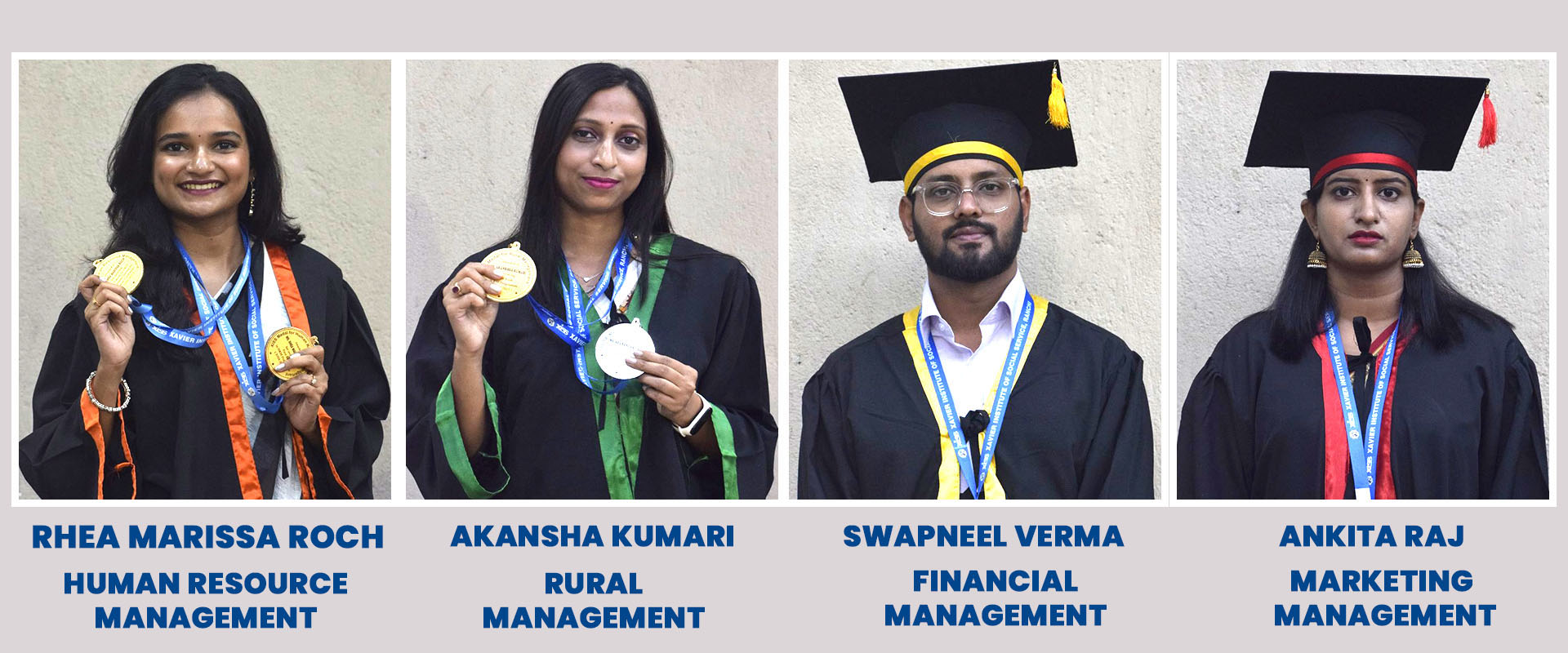 Human Resource Management- Rhea Marissa Roch - Adani Power Ltd
I feel immensely grateful and humbled to receive the gold medal for my MBA program at XISS. The institution's unwavering commitment to excellence, holistic approach to education, and strong industry connections have been instrumental in shaping me into a competent and compassionate MBA professional. As I embark on the next chapter of my career, I am excited to apply the values instilled by XISS, such as integrity, innovation, and social consciousness, to create meaningful change in the corporate world.
Rural Management - Ms Akansha Kumari - Management Trainee in Corporate Social Responsibility at Tata Power
XISS not only gave me a degree, but also a purpose to make a difference in the world.
My success as a post-graduate is a testament to the institution's commitment to excellence in education and its dedication to preparing socially responsible leaders. My new role has given me the opportunity to work towards my goal of creating a sustainable future by brainstorming renewable concepts as a rural management professional.
Financial Management: Swapneel Verma - EY GDS
I am deeply humbled and incredibly grateful to XISS for offering a transformative experience and the program of Financial Management for providing me with unparalleled opportunities for academic learning and growth. I hope to carry the legacy of this esteemed institution and my program in creating a positive impact on society and my organisation.
Marketing Management: Ankita Raj - ICICI Lombard
I am grateful to XISS, faculties and staff for providing me with the necessary guidance and support throughout my programme. The recognition I have received has motivated me to work harder and strive for greater success in my new job at ICICI Lombard.
To read more on the Institutional Scholarship for Batch 2021-23, click on this link