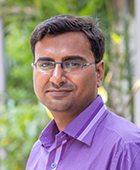 Dr Rishi Dwivedi
Assistant Professor, Financial Management
Date of Joining: 15.06.2017
Background
Dr Rishi Dwivedi is currently working as an Assistant Professor in the Department of Finance, XISS, Ranchi. He has obtained his PhD degree from Jadavpur University, Kolkata after completing MBA degree with specialization in Finance from IBS Business School, Kolkata. Dr Rishi has obtained his Bachelor's degree in Mechanical Engineering from Sikkim Manipal Institute of Technology, Rangpo, Sikkim.
Professional Experience
Before joining XISS, Ranchi, Dr Rishi has worked as an Assistant Professor in Management Department at Central University of Jharkhand. He has also almost one year of corporate experience as an Assistant Manager at ICICI Bank Limited, Kolkata, West Bengal. In that role, he was accountable for the complete credit granting process, including consistent application of a credit policy, periodic credit reviews of existing customers and assessment of the creditworthiness of potential customers, with the goal of maximizing customer profitability and minimizing bad debt losses. During his corporate career, he evaluated the credit proposals of various SME and MSME clients, through incisive financial statement analysis, industry performance, economic analysis and management quality. Dr Rishi is regular reviewer of many international journals of high repute like, International Journal of Production Research, Journal of Cleaner Production, OPSEARCH etc. His research interests include development of integrated activity based costing and quality function deployment models for various industries in order to attain competitive edge. Of late he is also interested in exploring the ways in which MCDM model can be applied to achieve sustainable advantage for assorted industries.
Achievements
Dr. Rishi has been awarded with esteemed UGC-BSR Research Fellowship in Science for Meritorious Students. He has published several research papers in well renowned international journals as well as presented papers in international conferences. He has carried out collaborative research with professionals from Indian Institute of Technology and National Institute of Technology.