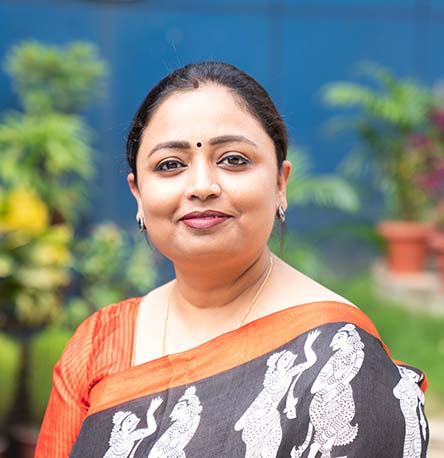 Dr Raj Shree Verma
Assistant Professor, Rural Management
Date of Joining: 03.01.2008
Background
Dr. Raj Shree Verma has done her 10th in the year 1995 and then her I.A. and B.A. (Economics Honors) from Patna Women's College in 1997 and 2000 respectively. Then she completed her MA in 2000-2002 batch in Economics with specialization in Monetary Economics from Darbhanga House, Department of Economics, Patna University. She was awarded Ph.D. in Social Sciences from Patna University, Patna, in the year 2011, on the topic "Impact of Economic Reforms on Banking Sector with Special reference to State Bank of India Working in Bihar".
Professional Experience
She has taught at DAV School and then in Patna University's few Colleges as part-Time Teacher like Patna Women's College and Magadh Mahila College. While doing her Ph.D. she also worked as Project Officer in Indian Institute of Public Administration, New Delhi on a Project about "Gender Budget".

She joined XISS in the year 2008 as a Faculty in the Rural Management Programme. She is dealing with Rural Economy & Development, Managerial Economics and Gender and Development courses. She is also a part of the soft skills development classes. She has presented papers in many National and International Seminars and Conferences. She has many publications in books as well as in journals.
Achievements
She is a member at XISS- Internal Complaint Committee. She is an active member in organising many events at XISS and in Rural Management Programme.

She had worked in the Placement Cell of Rural Management as Department Placement Coordinator. She had been Nominated in Department of Health Medical Education and Family Welfare, Government of Jharkhand as a member in the State Level Monitoring Committee for Section-5 of "The Cigarettes and other Tobacco Products (Prohibition of Advertisement and Regulation of Trade and Commerce, Production, Supply and Distribution) Act, 2003" constituted under the Chairmanship of Principal Secretary, Department of Health Medical Education and Family Welfare, Government of Jharkhand.

She gives as much as possible time to her daughter but still if some time is left she loves listening good and soft Hindi songs.