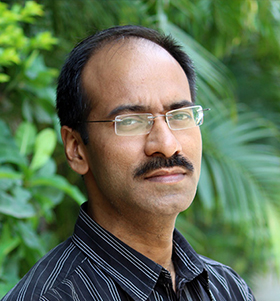 Dr Prakash Chandra Dash
Assistant Professor, Research & Planning
Date of Joining: 01.08.2011
Background
Dr Prakash Chandra Dash did his schooling from Raj Borasambar High School in Padampur (Odisha) and his Higher Secondary (+2) in science from Anchal College, Padampur. He did his graduation from Gangadhar Meher College, Sambalpur in Geography with specialisation in Regional Development and Planning. Subsequently, he went on to do his Masters, M. Phil and Ph.D in Geography from the Centre for the Studies of Regional Development (CSRD), Jawaharlal Nehru University (JNU), New Delhi. While he was at JNU, Geographic Information System and Remote Sensing Techniques were being introduced and he was in the first batch of students who were very keen to adopt and utilise GIS techniques to understand and address the spatial dimensions of problems facing humanity. His keen interest in environmental issues led him to pursue a course in Environmental Law and Management (ELM) from Indian Law Institute (ILI), New Delhi. Dr Dash has a deep interest on issues related to Water and calls himself a Water-nerd. Given his training and interest, he is passionate about understanding the dynamics of Natural Resource Management ranging from policy to practice, and from the perspectives of the government, corporate and community.
Professional Experience
From 2010, onwards he has been working at XISS, Ranchi in the department of Research and Planning. He teaches applications of Remote Sensing and GIS techniques to students of Rural Management and Information Technology. Dr Dash is well versed with RS GIS softwares like ArcGIS, IGIS, MapInfo, ERDAS etc and statistical softwares like SPSS etc. Apart from teaching, he has been conducting various research and consultative projects. Some of his current research and consultancy assignments include Aus Aid (now DFAT) sponsored Community Management of Rural Water Supply Systems in India (Community Water Plus), Preparation of CSR Plans for NTPC, Kaniha and NTPC, Korba. Besides these, he has also provided GIS based consultancy services to SAIL, WCL, DPS and MECON. Further, since 2015, Dr Dash has been the Coordinator of the 6 months Training programme in Geoinformatics, under which so far 10 batches of trainees have completed their training.