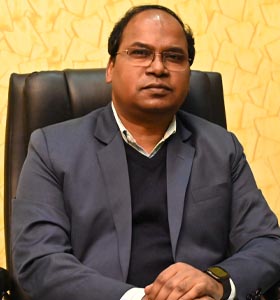 Dr Pradeep Kerketta SJ
Assistant Director & Associate Professor, Financial Management
Date of Joining: 28.08..2007
Background
Dr. Fr. Pradeep Kerketta has done his Masters and M.Phil. in Economics from Loyola College, Chennai that comes under Madras University. He did his Ph.D. from Ranchi University. His area of research was on Developmental Economics. Being closely associated with the developmental activities of the Institute, he developed deep passion to work for the excluded. He taught Managerial Economics and Macroeconomics in Marketing and Finance Programs. Currently, he teaches Business Ethics and Corporate Social Responsibility.
Professional Experience
Dr. Pradeep working on the post of Assistant Director equipped himself in the area of administration and public relations, managerial skills that includes Business communication, counseling and problem solving and negotiation skills. As he was also working with Development Resource Centre (DRC) of the institute in the project like Dikonia and Italian Livelihood Project he gained experiences of running and evaluating livelihood activities both in need based and right based approaches.
Achievements
His research area is development studies, a special focus on livelihood, he has presented papers in national and international conferences and published his research articles in the journals of national repute. He has a good exposure of foreign countries as he has visited 8 countries. He also has participated in United Nations Permanent Forum on Indigenous Issues in New York, World Social Forum in Brazil and International Association for Jesuit Business Schools in XLRI and Seattle a city in Washington State. He takes a keen interest in grooming young professionals with his administrative and leadership skills.