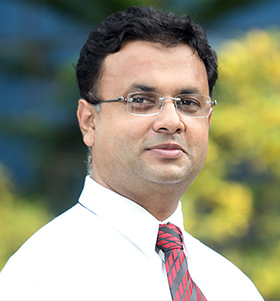 Dr Pinaki Ghosh
Associate Professor, Marketing Management
Date of Joining: 01.09.2004
Background
Prof. Pinaki Ghosh completed his school education from St. Anthony's School Ranchi followed by Intermediate Science and Bachelors in Science with Chemistry from St. Xavier's College Ranchi after which he joined Rekvina Laboratories Limited, an Indian Pharmaceutical Company and worked there in the area of Business Development. After which he completed his dual qualification in Management – a Post Graduate Diploma in Management and a PG Degree in Marketing Management from Pondicherry University. Thereafter he joined the corporate sector and worked for two years in the sales and distribution area in different companies like LG Electronics. In due course of time he started taking classes in the Vocational Department of St. Xavier's College Ranchi. This stint acted as a driver to shift from Industry to full time research and academics. To keep abreast with the latest developments in the academics and corporate, he attended MDPs conducted by reputed institutes like XLRI and IIM Ahmadabad.
Professional Experience
With continued penchant for research and teaching he joined the Department of Management Birla Institute of Technology Mesra as a Research Associate. There he along with the principal investigator handled major projects sponsored by Government of India, AICTE and others. One of the major project handled was the Ministry of Communication and Information Technology; Government of India sponsored worth a crore rupees which was aimed at developing content for IT localization Network in the areas of Agriculture, Education, Health and Business for Jharkhand During his stay at BIT Mesra he continued working as a guest faculty and also as a trainer and consultant for some companies in Ranchi and around. Some notable contributions were training a group of Agri-Entrepreneurs under a special programme at Birsa Agriculture University Kanke, training LIC Housing Finance's young executives on marketing skills, providing research based consultancy on viability and potential for TI Diamond He also took up an assignment at Prabhat Khabar , a local Hindi daily of Ranchi where he contributed as a research and brand consultant and was a part of the brand management team. Here he had hands on experience in Brand Management activities of the paper.
Achievements
He joined XISS in the year 2004 as one of pioneer members of the Department of Marketing and Finance. Here he has been working in the areas of research, training and consultancy and also provided contributions to the academic world in form of conference presentations and publishing of articles. So far he has about 10 articles in journals and newspapers as well as around 15 national and international conference presentations. He has also been to the USA at the St. Louis University, Missouri, to present his paper at the IAJBS 19th World Forum held there. In XISS he has undertaken many training assignments most of them in individual capacities and some jointly in organizations like World vision, NTPC (for executives) State Agriculture Management Extension Training Institute, NTPC –one New Guidelines on CSR and Community development (for AGM, DGM and GM level participants ) to name a few. He was also the Associate Trainer for Indian Oil Corporation's Xtra Care Dealer Training Programme for a period of one year for the whole of Eastern India. He has been a regular resource person to several training programmes organized at the State Government level. He was also nominated as the XAT committee member representing XISS in XAT meetings in the year 2014.