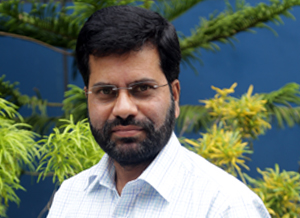 Dr Niranjan Sahoo
Professor, Rural Management
Date of Joining: 03.01.2008
Background
Dr. Niranjan Sahoo (born in Odisha) is academically specialized with Rural Management domain in general and Disaster Management in particular. In his 20-years of job experience, he initially got a campus placement offer while studying at Visva-Bharati University Santiniketan, India by a Germany based funding agency (EZE, Bonn) located in Calcutta. He left the job for higher studies (M. Phil–cum-Ph.D an integrated program) from University of Indore and after completion of his M. Phil, he joined an Administrative Training Institute, Government of Tripura (SIPARD) in 2000 (later he was shifted to Government Degree College under Tripura University) as Assistant Professor where he was extensively involved in rural development trainings which were imparted to the IAS, IFS and the state level cadre officials. After 8 years of the government job, he joined Xavier Institute of Social Service (XISS), Ranchi, India as Associate Professor. He was also felicitated with Visva-Bharati Snatakattor Upadhi in 1997 at Santiniketan by the then Prime Minister of India, Shri I.K.Gujaral. Prof. Sahoo has received International Intellectual Award 2010 in an International Conference on "Indo-Thai Friendship Summit and Economic Growth" held in Bangkok, Thailand on 30th December 2010 for outstanding rural development teachings. He has traveled to some of the countries i.e. Nepal, USA, Bangladesh, England, Singapore, South Korea, Indonesia, China, France, Switzerland, Thailand, Mongolia, Germany and Mexico for academic causes. He has got a total 15 National/International research publications, 3 book chapters and 3 books to his credit so far. His recent book has been annotated by an "Á" category journal i.e. Journal of Economic Literature of Economic Association of America and reviewed by the Prime Minister of India. He did a short-term course on "Human Resource Management Planning" from Indian Institute of Technology (IIT) Kharagpur, India before completion of his Ph.D degree from Magadh University, Bodhgaya, India. He has taken up the projects from i) APO, Tokyo, Japan, ii) GALVMed, Edinburgh, iii) Victorian State Government, Australia. Being a community member to the UNSDRR, he was part of the United Nations delegation to its global platform held in Mexico (2017), Ulaan Baatar (2018) and in Geneva (2019) along with Home Minister of India. He has offered a few lectures on Industrial Disasters at some of Korean Universities i.e. Vision University, Anasan University, University of Suwon, Han-Seo University, Sinhan University and Korea Fire Service Institute etc.
Professional Experience
Has been serving for past 13 years of teaching job as an Associate Professor at Xavier Institute of Social Service, Ranchi, India
Served for over 5 years of teaching at Tripura University affiliated Degree College, Government of Tripura as an Assistant Professor of Economics (a Group A, Gazetted officer selected by Tripura Public Service Commission and appointed by His Excellency Governor of Tripura)
Worked for almost 3 years as Assistant Professor of Rural Development at Tripura Government Administrative Training Institute (called SIPARD) where I was offering the DoPT & MoRD sponsored training modules for State Civil Servants, IAS, IFS and line department Officials.
Achievements
Summer Placement Coordinator at XISS for 7 years
HoD, Department of Economics at Govt Degree College for 3 years
NSS Program Officer at Govt Degree College for 3 years
Editor of Jharkhand Journal of Management & Development Studies for Disaster Management issue