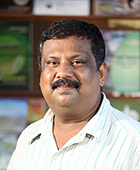 Dr Krityanand Kumar Bhagat
Professor, Rural Management
Date of Joining: 03.01.1995
Background
Dr. K.K. Bhagat did his schooling from St. Xavier's School, Doranda, Ranchi. He completed his Graduate Studies from St. Xavier's College, Ranchi University and moved to New Delhi in 1984 for higher studies where he joined Hindu College, Delhi University, to pursue his knowledge on Sociology. He went on to spend his youthful life to complete his Master's, M.Phil. and Ph.D. Programme from Centre for the Study of Social Systems, School of Social Sciences, Jawaharlal Nehru University, New Delhi. During these eight eventful years of academic career he made himself familiar with learning on disciplines like Industrial Sociology and Urban Sociology.
Professional Experience
He has completed more than two decades of his teaching and learning experience at XISS. He facilitates papers like Culture and Society, Peasants Studies, Research Methodology, Human Rights, Cooperatives and Corporate Social Responsibility. He has twice travelled abroad, once to enhance his understanding on Social Capital at UFSIA, Belgium and on the second occasion to be part of Global Conference on Corporate Social Responsibility at Lima, Peru. Today he treats CSR as his core discipline where he has been growing and has contributed in form of keynote addresses for corporate houses like Tata, CII, JINDALS including UNICEF and others. Along with he is a member of ICFAI Academic Council for guiding executive for their thesis work.