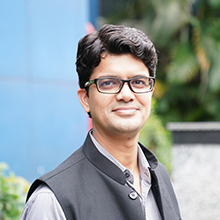 Dr Pratyush Ranjan
Assistant Professor, Marketing Management
Background
Dr. Pratyush Ranjan is a faculty in the area of Marketing Management at Xavier Institute of Social Service, Ranchi. He has done his doctoral studies in Marketing Management from XLRI – Xavier School of Management, Jamshedpur. He is an engineering graduate from CUSAT, Kochi and has done masters in business administration from IBS, Mumbai. Dr. Ranjan enjoys teaching and guiding students for corporate and entrepreneurial roles. Some of his research interest areas are Sustainable Marketing, Consumer Well-Being, and Business Ethics.
Professional Experience
Post his doctorate Dr. Ranjan has been teaching several courses as a Visiting Faculty for graduate programme in Marketing Management. He has offered courses in Business-to-Business Marketing, Retail Management, Retail Store Operations, International Marketing, Social Marketing, etc. Prior to this, Dr. Ranjan has a varied experience having worked in the area of Consumer Research in a multi-national marketing research company and coordinated social work in non-governmental organizations. He also has an entrepreneurial stint in the healthcare sector.
Achievements
Dr. Ranjan has published in national and international journals of repute and has also participated in national and international conferences. He has also been a resource person for Management Development Programme for small-business entrepreneurs.