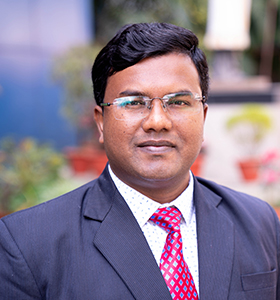 Dr Binit Lakra
Assistant Professor, Human Resource Management
Date of Joining: 01.02.2022
Background
Dr. Binit Lakra holds M.A.(Globalization and Labour), M.Phil.-Ph.D. degree (Management and Labour Studies) from the School of Management and Labour Studies, Tata Institute of Social Sciences (TISS), Mumbai. His teaching and research interest areas include Industrial Relations, Changing Demographics and Labour Organizations, Industrial Safety, Workers Education and Social Protection, Corporate Social Responsibility and Social Science Research. He is currently working as Assistant Professor (HRM Department) at XISS, Ranchi.
Professional Experience
Dr. Binit Lakra carries over three years of research experience in short and long term projects. He has worked as a Research Coordinator and Research Associate in various projects associated with institutions like UNDP-Ministry of Housing and Urban Poverty Alleviation (New Delhi)-TISS (Mumbai), Skill India Mission-TISS (Mumbai), and the Atal Bihari Vajpayee Institute of Good Governance and Policy Analysis (AIGGPA) (Bhopal). The research studies include Impact assessment studies related to Micro finance and exploring livelihood opportunities, vocational courses and learning outcomes and resettlement & rehabilitation of project affected families (PAF's).
Achievements
The research papers related to the topics on Labour Management Relations have been awarded first and second prize in conferences conducted at the Xavier Institute of Management (Bhubaneswar) and Indian Institute of Management (Indore) respectively. He has presented research papers across national and international conferences with one paper published as a chapter in conference proceedings (Faculty of Management Studies, New Delhi) and three others in peer reviewed journals. He has also participated in national level research methodology workshops including XLRI (Jamshedpur) & Mumbai University. He has also received Gold Medal for the M.A. Thesis Titled, 'The unorganized workers of the Ship breaking Downstream industries: Focus on Alang(Gujarat) and Darukhana(Mumbai)' (2011) and also awarded Silver Medal for Second Best student in M.A. (Globalization and Labour) Academics (2011). He was awarded Rajiv Gandhi National Fellowship Award (RGNF) for his M.Phil.-Ph.D course and also holds UGC-NET examination certificate in Labour Welfare/HR/IR (Subject code 55), June 2012. He has participated in national level research methodology workshops across institutions like VV Giri National Labour Institute, Greater Noida, XLRI Jamshedpur and ICSSR sponsored workshop at Mumbai University, Mumbai.