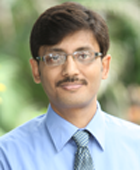 Dr Bhaskar Bhowani
Professor & HoP, Coordinator – Admissions
Date of Joining: 01.09.2004
Background
Dr. Bhaskar Bhowani is an Associate Professor in the Program and Head of PGDM-Finance and has been a core faculty of the department since 2004. He has dual Masters; M.Com from University Department of Commerce, Ranchi University, Ranchi and MBA from Birla Institute of Technology, Mesra with a major in Finance and a minor in Marketing. He completed his Doctoral studies in the area of Banking and was awarded the doctorate degree from the University Department of Commerce, Ranchi University, Ranchi in the year 2014.
Professional Experience
Dr. Bhaskar Bhowani has more than 16 years of experience in PG & UG teaching mostly in the area of Finance and Business Management. At XISS, he offers courses on Financial Management, Financial Markets and Investment Strategy, Management of Banking and Financial Institutions, Microfinance and Entrepreneurship. His area of work and research interests include: Strategy formulation for Banking and Financial Markets and Financial Risk Management.
Achievements
Dr. Bhaskar has presented research papers in several national and international conferences and has quite a few publications to his credit in acclaimed journals. His recent works include a book chapter titled: "Development of an integrated TOPSIS-QFD model for sustainability assessment of Indian Banks" co-authored with Dr.Rishi Dwivedi, published by IGI Global, USA in one of its MCDM methodology books titled: "Advanced Multi-Criteria Decision Making for Addressing Complex Sustainability Issues" in May 2019. Another publication is a conference proceeding titled "An integrated SWARA-WSM model for analyzing performance of Indian Banks" co-authored with Dr. Rishi Dwivedi, published by American Institute of Physics, AIP Publishing in November 2020.

Besides academics, Dr. Bhaskar has also been assisting in administrative functions of the institute as Summer and Departmental Placement Coordinator for the last many years. Since 2019 he has also been a part of the admission cell and is currently the Coordinator Admissions of the Institute.