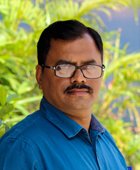 Dr Bhabani Prasad Mahapatra
Assistant Professor & HoP, Marketing Management
Date of Joining: 16.10.2017
Background
Since October 2017, Dr. Bhabani Prasad Mahapatra has been working as an Assistant Professor and Head in Department of Marketing Management, at Xavier Institute of Social Service (XISS), Ranchi, Jharkhand, India. He offers courses in Managerial Economics, Economic Analysis and Policy, Foundations of Business Analytics, Research Methodology, Econometrics, International Trade and Business Environment. He has research interest in Development Economics-more particularly on food and nutritional security, decentralized finance and other issues related to inclusive human development. He is well versed with data analysis soft-wares like MS Excel, SPSS, E-Views, GRETL, R-Commander.
Professional Experience
Out of more than 20 years of full time job experience, Dr Mahapatra spent 4 years in development sector as a programme coordinator in various community development projects especially for the children of vulnerable sections in rural and urban slum area. He spent another 3 years as a public policy researcher in development sector too. Prior to Joining XISS, Dr Mahapatra was working as a faculty member in Regional Institute of Education, Bhubaneswar, Bhubaneswar Institute of Technology, Gandhi Institute for Technology, Bhubaneswar, Alphia Institute of Business Management (a strategic Unit of ICFAI), Berhampur campus, Odisha and Bhairabi College, a degree college affiliated to Sambalpur University. Besides Dr Mahapatra worked as guest faculty in ICFAI National College Bhubaneswar and Cuttack, Institute of Management, Bhubaneswar.

Dr Mahapatra completed his master's degree in Economics with Econometrics and Mathematics for Economics as specialisation from Berhampur University in 1995, a post graduate diploma in Economics from Madras School of Economics, Chennai in 1997 and received PhD in Economics from Berhampur University, Odisha in 2018.The title of his PhD is "Sustainable Food and Nutritional Security in Orissa- A Research Study on Nayagarh District". Dr Mahapatra qualified the UGC NET in Economics in 2012.He has also completed MBA in HRM from Pondicherry University in 2011.
Achievements
He has published his research papers in various national level peer reviewed journals like Orissa Economic Journal, Indian Economic Journal, Jharkhand Journal of Development and Management and book chapter in an edited book published by Springer nature. He has presented research papers in various regional, national, and international conferences. A regular participant in faculty development programmes, Dr Mahapatra recently attended a summer course in Development Economics from August 9-14,2020 from IGC Patna. Dr Mahapatra also regularly publishes articles in various newspapers and online portals. He is life member of Odisha Commerce Association, South Odisha Economic Association and annual member of Odisha Economic Association and Indian Economic Association.

A partial list of publication:

BP Mahapatra and B. Patro (2018) Assessing Nutritional Intake from a Field Study in Odisha. in: Kamaiah B., Shylajan C., Seshaiah S., Aruna M., Mukherjee S. (eds) Current Issues in Economics and Finance. 197-212, Springer, Germany: https://doi.org/10.1007/978-981-10-5810-3_12. Print ISBN978-981-10-5809-7. Online ISBN978-981-10-5810-3
BP Mahapatra and SK Choudhury Managing Climate Change-A Challenge to 21st century in Lingaraj patra(ed) Aqua Biodiversity of Discovery Publication, New Delhi. ISBN 978-81-8356-637-7
Mahapatra and Patro(2018) Food and Nutritional Security Assessment-An Appraisal in the issue of the Jharkhand Journal of Development and Management Studies,Vol.16.No.1,March 2018,pp.7659-7672
B.P. Mahapatra, C. S Shylajan and B.Patro (2017) Nutritional Status of Children in India: An Empirical Study using National Family Health Survey Data in the special Issue of The Indian Economic Journal, pp 98-112,ISSN Number: 0019-4662
B.P.Mahapatra, B Nayak and B.Patro Revisiting the Implication of the 14th Finance Commission on Social Sector Budget in Odisha, Orissa Economic Journal, Vol.49 ISSN No. 0976-5409
BP Mahapatra and B.Patro (2016) Consumption Pattern in Odisha with Reference to Nayagarh District, Orissa Economic Journal Vol.48 1&2 January-June and July-December 2016, ISSN No. 0976-5409
BPMahapatra and B Patro (2015) Public Investment in Agriculture for Achieving Food Security with a special reference in Odisha, BIITM Business Review, Volume 6, No.2 July-December 2015, ISSN No.2250-1553
BPMahapatra (2015) The share of Odisha in Fourteenth Finance Commission (FFC) in India, BIITM Business Review, Vol.6 Issue No.1 January-June 2015, ISSN No. 2250-1533
B.P Mahapatra (2011) A Gateway for Women Empowerment in India Economy Review, Vol. VIII, May 16-August15,2011
Paper Presentation

A research paper "Nutritional Status of Children in India: An Empirical Study using National Family Health Survey Data" in the 100th Annual Conference of the Indian Economic Association held on 27-30 December 2017 in the Department of Economics of Acharya Nagarjuna University, Andhra Pradesh
Presented a paper "Revisiting the Implication of the 14th Finance Commission on Social Sector Budget in Odisha in 49th Annual Conference of Orissa Economic Association held on February11-12, 2017 in Rama Devi Women's University, Bhubaneswar
Presented a paper "Assessing Nutritional Intake from a Field Study in Odisha" in 5th International Conference on Applied Econometrics (ICAE-V), Hyderabad on July 22-23, 2016
Presented a paper on Consumption Pattern in Odisha with Reference to Nayagarh District in 48th conference of Odisha Economic Association on 13-14th February 2016
Publication in News- Paper/ Portal

Article on "Prolonged lockdown will lead to hunger for the vulnerable section" in Hindi (May 5,2020, Prabhat Khabar, Ranchi)
To stimulate Economy, India needs a demand driven stimulus package (May 26,2020, The Pioneer, Ranchi edition)
Covid-19 all set to aggravate hunger across the world (28.05.2020, BIZODISHA)
Amendment to Orissa land Reforms Act to boost agriculture in State. http://bizodisha.com/amendment-to-orissa-land-reforms-act-to-boost-agriculture-in-state Odisha should have its own NITI Aayog: http://bizodisha.com/odisha-should-have-it-own-niti-aayog/
Open Defecation Free in Odisha-A reality check. http://bizodisha.com/2016/05/open-defecation-free-in-odisha-a-reality-check/
Budget Transparency Key to empowerment of Panchayats in Odisha. http://bizodisha.com/2017/07/budget-transparency-key-to-empowerment-of-panchayats-in-odisha/