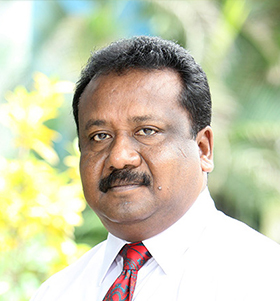 Anmol Roshan Bodra
Associate Professor, Marketing Management
Date of Joining: 06.09.2004
Background
Prof. Anmol Roshan Bodra completed his schooling from Loyola School, Jamshedpur. He completed his Intermediate and Graduation in Science from St. Xavier's College, Ranchi. Thereafter he completed his two year full time Business Management Course with specialization in Marketing and Finance from XLRI, Jamshedpur.
Professional Experience
After completing his Business Management studies he started his career in Balmer Lawrie & Co. Ltd., Kolkata, and, subsequently moved on and served in Joint Ventures, Multinational and Private Companies. He has over twenty years of Corporate Work Experience in Various Positions and in various Functional Areas of which his major contribution has been in the Marketing and Commercial functions.

He joined Xavier Institute of Social Service (XISS), Ranchi in September 2004.He has represented the institute at the World Union of Jesuit Alumni (WUJA) at Medellin, Columbia, South America, in July 2014
Achievements
Prof. Bodra also has a keen interest in activities other than academics viz. sports, games and music. His love for music has led him to establish the Music Association of XISS (MAXISS) the Institute's Band. The courses taught by him are Marketing Management, Business Policy and Strategic Management, Industrial Marketing, Retail Management and Business Communication.