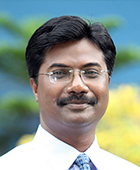 Dr Amar Eron Tigga
Dean Academics, Chief Placement Coordinator & Professor, Marketing Management
Date of Joining: 01.09.2006
Background
Dr. Amar Eron Tigga is a faculty in the Department of Marketing at XISS, Ranchi. He received his Ph.D. and B.Tech. from IIT(ISM) Dhanbad and PGDM from IIM Calcutta. He also completed a course on Advance Marketing Management from IIM Lucknow.

He teaches subjects in Marketing domain namely, Brand Management, Sales Management, Customer Relationship Management and B2B Marketing. His has interest in technology and teaches Management Information System also for Marketing students.

He also works in developing, training and mentoring entrepreneurs.
Professional Experience
Prior to joining XISS, Prof. Amar worked with Punjab National Bank as a Sr. Manager Marketing and worked for bank's business development and marketing of various products. He also served as mining engineer in Pyrites, Phosphates and Chemicals Ltd., Dehradun.
Achievements
His research areas include Brand Management and Sales Management. He has presented several research papers in national and international conferences and published articles in journals of repute. He is also attached with various corporate and development organizations for training and projects implementation. His research interests are also in Educational Institution Branding, especially B-Schools. Entrepreneurship development and digital.

He is an Independent Director for Ranchi Smart City Corporation Ltd. (RSCCL) and a member of Board of Governors of Indian Institute of Coal Management (IICM), Ranchi. He is also a Trustee of Maruti Suzuki XISS Awanish Kumar Dev Memorial Trust. He also served the Institute (XISS) as an Acting Director from 1st Aug 2019 to 15th June 2020. He contributed significantly as a Chief Coordinator – Placements and strengthen the Alumni Relations.